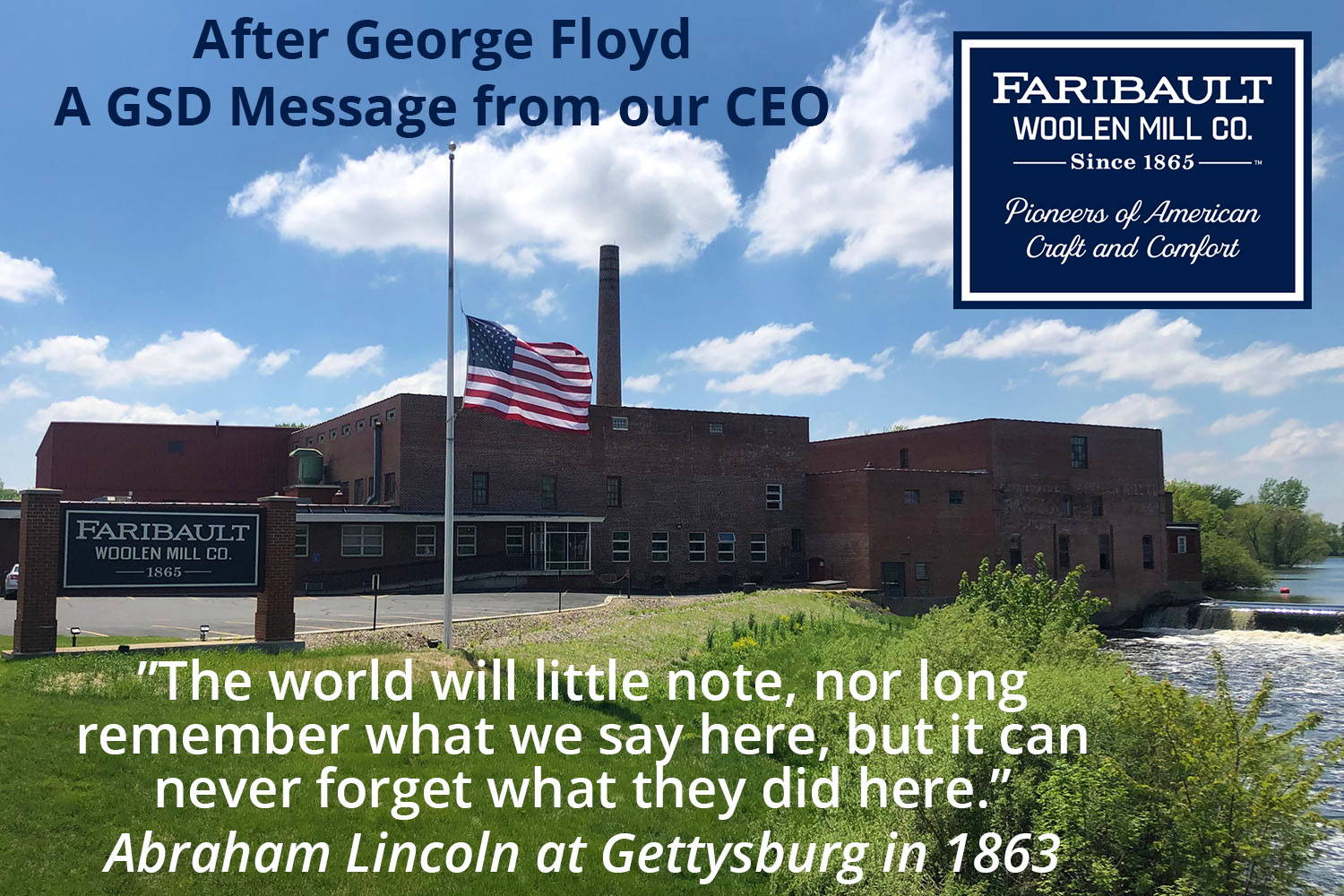 Greetings Dismayed but Determined Friends —
On Memorial Day morning, I had written that Abraham Lincoln's immortal words at Gettysburg constitute an enduring challenge — i.e. "It is for us the living, to be dedicated to the unfinished work" of building and preserving a nation "dedicated to the proposition that all are created equal".
Then evil and all hell broke loose — first in the ending of George Floyd's life over $20, followed by the destruction of lives, livelihoods, businesses and essential services for so many who least deserve loss and who can least recover from destruction. That we are still not "dedicated to the proposition" of equality was laid brutally bare before us. Seeing the awful catalyst for so much nationwide destruction spring from my hometown grieves and angers me beyond words.
It's ironic that the most famous speech in our history contains this sentence: "The world will little note, nor long remember what we say here, but it can never forget what they did here." Like all of you, I've read many words, heard many words this past two weeks.
While words really do matter in leading people, what always matters most is — as Lincoln said — what is done. We have an acronym that drives our recovery at Faribault Woolen Mill Co. It's "GSD", which stands for Get Stuff Done!
Let's end the stream of words with nothing changing. This time the victims must not die in vain. We expect much of our leaders in this crisis but people rightly have asked us what will our company do? What will I do?
1) We will build this business against the entrenched forces of offshoring to be sustainable.
2) We will commit to employment diversity at all levels of our company.
3) We will pay everyone above the living wage.
4) We will expand our product offerings to be more culturally inclusive (stay tuned, much is already in the works).
5) Despite our business challenges, we will sacrifice to support community events, not-for-profits helping people of color, our front-liners in the fight against COVID and agencies working in battle for equal educational opportunity and access.

As for my family and me -
1) I will continue to work for this company without any compensation until every job is secured by sustainable results (as long as the board and our team will still have me).
2) My wife and I will increase our longstanding annual support of agencies that provide educational opportunity and college access, mental health counseling and family-support services for people of color and the disadvantaged.
3) Today, we have pledged the largest single charity gift we have ever made, to the "Twin Cities Rebuild for the Future Fund", just launched as a collaboration between the Greater Twin Cities United Way and the Minneapolis and St. Paul Foundations. It wasn't in the plan or budget, but it's what we can do.
4) We will continue to read works by BIPOC authors and engage in dialogue to try to understand much better what we cannot fully comprehend about racism in America.

That's the current list. The work will continue. GSD.


Paul Grangaard, Chairman & CEO