What Is The Difference Between a Knit and a Woven?
Posted by FARIBAULT MILL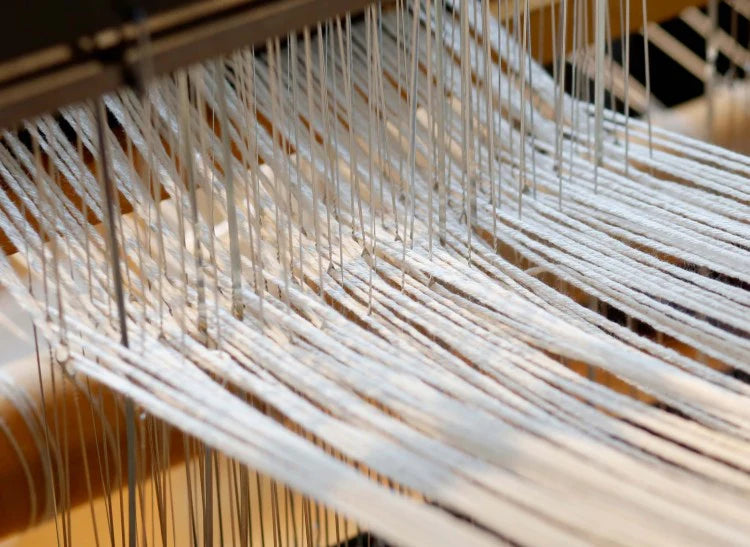 KNITS
A knit fabric is constructed with one continuous yarn that is looped in rows. Consecutive rows interlock and a fabric is created. The result is a cloth that moves in many directions, some might call it stretch. When we think of knits we identify sweaters, mittens, t-shirts, stockings and leggings, dresses, and active sportswear.
The constituent fiber and quality of a yarn contribute greatly to the stretch and recovery of the knit fabric. Nylon is well suited for stockings as it is durable and very flexible. Cotton is perfect for knit fabrics that drape comfortably. Flax is very stiff and therefore a knit construction can give a perceived flexibility to this inherently rigid fiber.
WOVENS
Woven fabric is constructed through the interlacing of vertical and horizontal yarns and therefore maintains a more rigid shape. This does not mean that all woven fabrics are rigid as choice of fiber and construction impart softness.
Drapery, table linens, jeans, coats and jackets, curtains, canvas, sheeting, and upholstery are usually woven. These are items that require greater dimensional stability and as such, a woven fabric is best suited for these applications.
Cloth that is woven can be flat and lustrous due to the nature of the linear configuration of yarns. This is what allows table linens to be crisp. The yarns float smoothly across the surface and upon being pressed they become supremely elegant.
BREAKING THE RULES
We've described the very basic differences between a knit and a woven however the variables become infinite once the designer works their magic. Choice of yarn and fiber are the very character of a fabric. A softly spun yarn can turn a traditionally stiff fabric into a soft and pliable one. A tightly spun yarn can reduce the flexibility of a knit thereby creating a stiffer fabric.
What was once only a woven fabric now inspires interpretations. For example, dungarees are always woven right? Not any more. Knit leggings have been indigo dyed to look like jeans. Woven jeans have Lycra or spandex incorporated for recovery from bagging thereby mimicking a knit. There are knit bed-sheets inspired by t-shirt material. This brings us to Brahms Mounts blankets and Throws, woven in construction, always keeping their shape. Innovative designing imparts a drape and flexibility that at one point could only be achieved in a knit. What sets us apart is our creative manipulation and configuration of texture and yarns.