Making a Blanket Statement
Posted by FARIBAULT MILL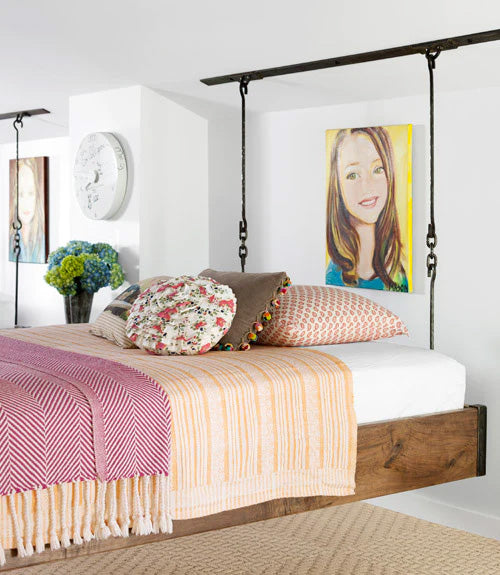 A blanket statement is one that is all encompassing, a declaration that has unlimited scope in its purpose to sweep all points of view under one umbrella. Some might say it discounts diversity. A blanket statement is clearly not the same as a blanket that makes a statement!!
A BLANKET HOLDS SIGNIFICANT MEANING
By definition, a blanket is much more than a fabric you sleep under. It is a symbol of warmth and friendship. The action a wrapping someone in a blanket is a real statement of kindness and a demonstration of honor. In Native American traditions a blanket is used to create and seal relationships. This action is transferred from generation to generation. Throughout history, the way blankets are draped on the body has indicated certain emotions.
CONSIDER NAVAJO AND BASOTHO BLANKETS
The most obvious example of symbolism in blankets is seen in traditional Navajo and Basotho blankets. These blankets hold symbolism beyond the action of them being wrapped around an individual. They hold deep and sacred meaning shown directly in the symbols woven into them. Colors and shapes hold specific meaning. Yellow, blue and orange indicate harvest time. Black is for mourning, white for innocence. Combinations of colors tell a story. In Africa, the Basotho blankets hold cultural meaning and significance.
BRAHMS MOUNT BLANKETS
Brahms Mount has always taken inspiration from history, while making history through our interpretation. Our Personal Day Blankets are statements of individuality. They go beyond the modern definition of a throw; they are worn as fashion accessories and given as gifts of warmth and comfort. The colors are vibrant and go beyond the neutrality of a subtle statement. Just ask Suzanne Lauzier, our flagship store manager. "Our customers frequently give feedback about the versatility and wearability of our throws and day-blankets. Our FEZ throw is a perfect example she explains, wrap in it and feel the fiber envelop you in a fabric that is yours personally." Brahms Mount textiles have meaning, and that, is a blanket statement!